Experiential Learning at Sheridan
Experiential Learning at Sheridan refers to a variety of activities, including course-integrated experiential learning (EL), work-integrated learning (WIL), and co-curricular recognition (CCR). In each of these experiences, students engage in hands-on learning, apply their classroom learning, develop

Sheridan Career Catalysts

, and prepare for their career.

Sheridan grounds experiential learning in the widely used theoretical framework by David Kolb (1984), who defines learning as 'the process whereby knowledge is created through the transformation of experience', comprised of four major areas including experience, reflection, conceptualization, and experimentation. Kolb (1984) explains that learning does not happen simply by experiencing a situation; learning is a process and students must engage in the experience. Sheridan also recognizes the indigenous roots of experiential learning and indigenous pedagogy which explains that every child is unique in their learning capacities, learning styles and knowledge bases; there is value in students learning independently by observing, listening, and participating (Battiste, 2002).

Sheridan breaks down Experiential Learning opportunities into three types:
Course-Integrated Experiential Learning
All experiential learning opportunities taking place in Sheridan's classrooms strive to meet criteria as defined by the Ministry of Colleges & Universities (MAESD, 2017; MCU, 2020):
In a workplace or simulated workplace.

Includes authentic demands relevant to building career-ready skills.

Structured with purposeful and meaningful activities.

Applies program knowledge and/or essential employability skills.

Includes self-assessment/reflection and verification or evaluation of the student's performance.

Counts towards course credit or credential completion, and/or is a formal part of the curriculum.
Learn more about Sheridan's types of

Course-Integrated Experiential Learning

.



Work-Integrated Learning
Work-integrated learning (WIL) is a model and process of curricular experiential education, which purposefully and intentionally integrates a student's academic learning within a workplace or practice setting. WIL experiences include an engaged partnership between an academic institution, a host organization, and a student.

Learn more about Sheridan's types of

Work-Integrated Learning

.



Co-Curricular Recognition
Activities defined as being part of Sheridan's Co-Curricular Recognition (CCR) programming are located outside a student's program of study and are not for academic credit. Examples of CCR include student life programs, student leadership development programs, community engagement activities, athletics, committees, and research projects.

Learn more about

Co-Curricular Recognition

.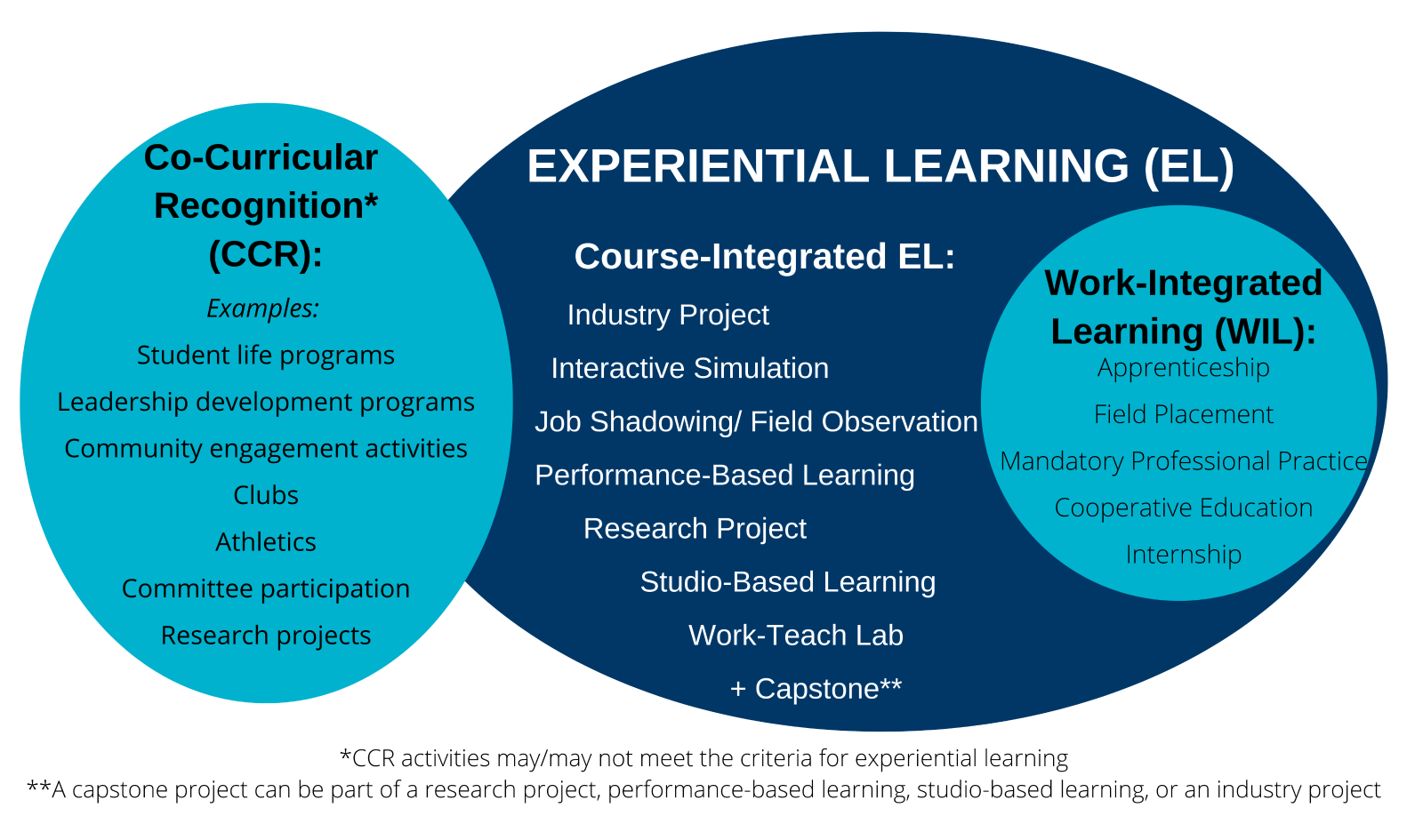 References
Battiste, M. (2002). Indigenous knowledge and pedagogy in First Nations education: A literature review with recommendations (pp. 1-69). Ottawa: National Working Group on Education.

Kolb, D. A. (1984). Experiential learning: Experience as the source of learning and development (Vol. 1). Englewood Cliffs, NJ: Prentice-Hall.

Ministry of Advanced Education and Skills Development. (2017). Guiding principles for experiential learning. Retrieved from
https://hive.utsc.utoronto.ca/public/dean/academic%20administrators/DCD%202017-18/A04%20EL%20-
%20Guiding%20Priciples%20FINAL%20EN.pdf

Ministry of Colleges and Universities. (2020). Graduate and Employer KPI Surveys 2020-21 Survey Cycle. [Internal Document]